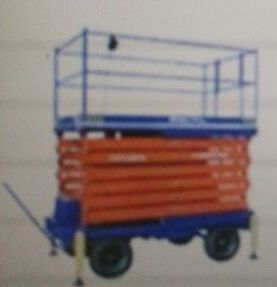 The Aluminium Scissor Lift Trolleys are one of the most mobile means for reaching the areas which are at a higher level. In most of the industries where materials are handled regularly, these lifts are used for working with the storage racks easily and effectively. These machines are available in a wide range of sizes, depending entirely on the application. The smaller scissor lift trolley usually owns a height of about four feet. It is used for navigation applications within the premises of the warehouse.
The scissor lift trolley depends entirely on the elongation of the collapsible mechanism for providing vertical elevation in the field of rotational and linear output. These lift Trolley devices are greatly used these days in various applications as they are strong and capable of lifting significant loads safely and efficiently.
Operations of a Scissor Lift Trolley
The scissor lifts own a great level of mechanical capability compared to the pantograph. The pantograph is a series of parallelograms which are linked with each other in the form of hinged intersections. This entire setting allows the operator to elongate the basic mechanism which is required for maintaining the integrity of the geometric figure.
The components which comprise a pantograph serve as an amazing set of line segments that lie adjacent to the parallelograms. The geometric change is uniformly spaced due to the mechanism. These vertical scissor lifts are accomplished to provide a vertical length so that higher elevations can be reached easily.
When the two pantographs are neatly arranged to form an actuate coming from a single drive, they together correspond, this allowing the load to get balanced between them. A calculator is also present, which is used for computing linear input force, which is required when the drive supplies per to the entire trolley manufactured by the aluminium scissor lift trolley manufacturer in Delhi. However, the entire strength of this list trolley lied in the centre pun and the base of the unit, which is responsible for supporting the entire structure in the best possible manner.
Power Source of a Scissor Lift Trolley
This aluminium scissor lift trolley requires a good amount of linear motion for supplying the service of elevation. The force is usually provided by the pneumatic and hydraulic actuator. In some cases, mechanical input structures like the lead screw and the rack or pinion drive is also used.
These scissor lifts work by utilizing the fluid power, which is preferred because the other valve helps the lift to get lowered in case of unwanted issues. These scissor lifts commonly own independent locomotion abilities, which play a major role in integrating lifting and propulsion from a single source of power, electricity, or petrol.
Control Mechanism of the Scissor Lift Trolley
As per the aluminium scissor lift trolley supplier in India, these lifts have specifically designed interfaces that allow easy and flexible height adjustment once the operator does discrete. These lifts have a safety mechanism incorporated in them, which prevents malfunctioning and uncontrollable descents.